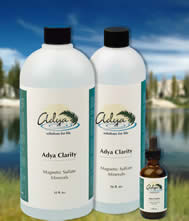 Comes in 3 sizes.
2 ounces transforms 15 - 20 gallons
16 ounces transforms 125 - 150 gallons
32 ounces transforms 250 - 300 gallons
"Free shipping"
Adya Awaken ionic minerals are ionized and contained in a solution of acid sulfate and purified water. Our mineral solution contains at least 50 ionic trace minerals:

| | |
| --- | --- |
| Mineral | Concentration ppm |
| Calcium | 98 |
| Magnesium | 347 |
| Potassium | 9.2 |
| Iron | 60.2 |
| Manganese | 1.3 |
| Zinc | .2 |
| Sodium | 9.3 |
| Phosphorus | 9.3 |

Additionally contains trace amounts of silver, boron, barium, beryllium, cadmium, cobalt, chromium, aluminum, nickel, selenium and up to 50 trace minerals.

Adya Clarity is a solution of purified water and ionic sulfate minerals that is an extraction from magnetic-rich, biotite (black mica). Our mineral solution contains the following ionic minerals:

| | |
| --- | --- |
| Mineral | Concentration ppm |
| Calcium | 45 |
| Magnesium | 451 |
| Potassium | 271 |
| Iron | 1,334 |
| Manganese | 21.6 |
| Zinc | 2.1 |
| Sodium | 16.3 |
| Phosphorus | 30.5 |

Additionally contains trace amounts of silver, boron, barium, beryllium, cadmium, cobalt, chromium, aluminum, nickel, selenium and up to 50 trace minerals.
About Adya Awaken:
Adya Awaken Ionic Minerals are extracted in sulfate form from a silicate caged mineral known as Biotite or Black Mica. In natural homeopathic medicine, as well as metaphysical medicine, Biotite is known for its many healing properties and for awakening one's consciousness.
Nature has shown that mineral salts are the key to balanced water. Minerals help ensure that your water is
life giving, has activated oxygen, is clear of pollutants and is free of bacteria and mold.
Adya Awaken is a unique ionic mineral solution you can use to improve your water.
About Adya Clarity:
Adya Clarity is a dissolved ionic mineral salt. It is a magnetic sulfate mineral solution that is extracted through an acid sulfate process from one of the rarest, and most mineral rich Biotite or Black Mica sources on this planet.
Adya Clarity's function is to precipitate dissolved contaminants within water making the toxins harmless. Adya
Clarity has the ability to convert dissolved contaminants into burned-up, inert matter.
With over 80 trace minerals in soluble form, Adya Clarity also provides the body with one of the most complete
mineral matrices that Nature has to offer.
Bacteria is eliminated
Impurities are clarified
Oxygen is activated
Frequency and energy are raised
Taste is enhanced
The result is great tasting water that is mineral rich, hydrating, and detoxifying.
Amount to use:
Just add 3-5 drops to every 8 ounces, one tablespoon per gallon to ordinary tap water, reverse osmosis or distilled water.
About minerals:
There is no room to question that minerals are required by the human body. A mineral does not exist by itself. Their synergistic work has been noted for our health.
It's difficult and almost impossible to get all your necessary minerals needed just through the absorbtion of our food. Our soils have been depleted from modern agriculture's heavy reliance upon the usage of chemical fertilizers, herbicides, and pesticides.
The relationship between water and minerals are symbiotic: as water contributes to the dissolving of minerals, it also performs as the courier. Without water, minerals become useless. These minerals are dissolved with positive ions making them electrically charged and a salt. These minerals perform an enormous task. And from this point on, the minerals and water share the same degree of importance. The problem is the degree of their contribution based on whether the water is "good or bad".
Minerals are the carrier for energy and the communication device for life. Without minerals, life would simply not exist. Plants, animals, humans and even water become unstable and have symptoms when the proper minerals are not present.
If minerals are not in the correct form, they can build up to toxic levels in the body's tissues and joints. "And Mineral Deficiency Has Been the Cause of All Modern Day Diseases and Life Style Illnesses"
Dr. Hisatake Nojima.
Ask yourself how long a glass of water takes to come out of your body? It comes out in one form or another and can take up to twenty one days. Now ask yourself about the quality of the water you're drinking and bathing in. Most people don't think about their skin as the largest organ for absorbtion.
Water is the source of life which manages all the functions of the body. Water stores and transmits energy, information and life.
There are simple solutions to improving the quality of your water as well as other key elements and compounds that work in conjunction with nature to provide the most efficient environment for a healthy body of life.
Adya Minerals and Products is a fantastic solution!